Garmin Forerunner 945 / 945 LTE FAQs & Specs
Updated 2 years ago
Table of Contents
Garmin Forerunner 945 / 945 LTE FAQs
Garmin Forerunner 945 / 945 LTE Specs
Garmin Forerunner 945 / 945 LTE Tech Support
---
Garmin Forerunner 945 / 945 LTE FAQs
What's di

fferent between the Garmin 945 and the 945 LTE premium running watches?
The Forerunner 945 LTE is designed to allow athletes on the go to leave their phone at home. You can now opt for phone-free safety and tracking features, spectator messaging, and live event sharing while still getting the wealth of detailed training data, performance monitoring tools, and smartwatch features that this training watch is known for. Here are some of the details:
Assistance and incident detection features can send a message with your location to chosen emergency contacts if you or the Forerunner 945 LTE senses danger
The Forerunner 945 LTE can automatically send your name and location to the Garmin IERCC, a 24/7 staffed professional emergency response coordination center that can contact and coordinate with emergency services or others to provide assistance
LiveTrack lets family and friends follow along in real time and even see your entire preplanned course
During a race, your can send pace and mileage updates to loved ones and receive motivational audio and text messages from spectators
A subscription plan is required to use the LTE-connected features
My 945 will not turn

on or charge. What should I do?
If your Garmin device won't turn on or charge, there are some basic troubleshooting steps that you can perform.
Is the Device Possibly Locked up?
In some instances, a device can appear locked up or frozen and not respond to any input including pressing a key, swiping the screen (touchscreen devices), or plugging the device into external power. You can attempt to recover the device by performing the following steps if your device has a physical power button:
NOTE: Following these steps may result in a loss of some data such as recent steps taken (activity trackers) or a loss of current time. To correct the time, sync the device with a smartphone using the Garmin Connect app or a personal computer using Garmin Express. For GPS devices go outside and acquire a GPS signal.
Plug the device into an external power source using the power/data cable.

Press and hold the power button until the screen changes (hold up to 30 seconds).
Is the Charging Cable in Working Condition?
Confirm that the cable is not damaged which would prevent the device from charging. Check the charging pins to ensure they are free of debris and not damaged. Replace the cable if necessary.
Are the Charging Contact Points on the Device in Working Condition?
Check the charging contact points on the device for damage, dirt, or debris. Use a pencil eraser or a cotton swab dipped in rubbing alcohol to clean them.
Is the Battery on the Device Fully Charged?
Plug the device into a power source using the power/data cable.
How do I load music from a streaming service to my Forerunner 945/945 LTE?
Music content from some streaming services can be loaded to a Forerunner 945 or 945 LTE by installing an available Connect IQ music app to the watch.
Select an option below for detailed instructions to install and sync music to your watch:
How do I Set Up Which Notifications Display on My Forerunner 945/945 LTE?
Controlling which notifications you see on your Garmin device is managed from your phone. Steps differ between Apple and Android.
Apple
Notifications are managed from the iOS notification setting on the phone.
From the iPone select Settings.
Select Notifications.
From the top of the screen, make sure Show Previews is set to Always or When Unlocked. This is a setting required by Apple to display notifications on a Bluetooth paired device.
A little farther down the screen, under NOTIFICATION STYLE, select the app you want to configure (e.g., Messages, Mail, etc.).
To SEE NOTIFICATIONS for a specific app on your Garmin device:

Allow Notifications should be toggled on.
Under ALERTS, make sure there is a check mark under Notification Center.
At the bottom, under OPTIONS or LOCK SCREEN APPEARANCE, you must have Show Previews set to either Always or When Unlocked. This is a setting required by Apple to display notifications on a Bluetooth paired device.

To DISABLE NOTIFICATIONS from displaying on your Garmin device:

Choose the app you want to control from the NOTIFICATIONS SETTINGS screen.
Under ALERTS, uncheck Notification Center. This will also result in notifications no longer appearing in the phone's notifications no longer appearing in the phone's notification center.
Repeat step 4 for each individual app to either allow or disable notifications from the app.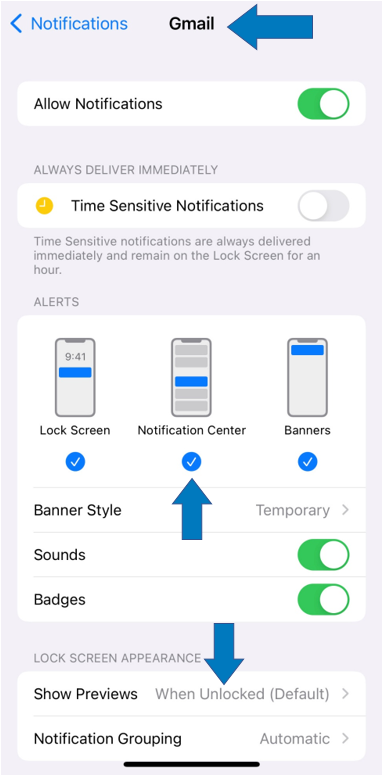 Android
Controlling what notifications display on your Garmin device can be managed from the Garmin Connect app.
Open the Garmin Connect app on your phone.
Select menu bars (top left).
Select Settings.
Select Notifications.
Select App Notifications.
From here, toggle to enable or disable all smart notifications or customize by selecting individual apps.
Where can I find the Garmin Forerunner 945 / 945 LTE Manual?
Click here to see the Forerunner 945 / 945 LTE manual.
See more Garmin Forerunner 945 / 945 LTE FAQs:
Click on this link for more Garmin Running Watch FAQ.
---
Garmin Forerunner 945 / 945 LTE Product Specifications
Physical Size: 47 x 47 x 13.7 mm; Fits wrists with a circumference of 130-220 mm
Color Display: Yes
Display Size: 1.2" (30.4 mm) Diameter
Display Resolution: 240 x 240 Pixels
Display Type: Sunlight-Visible, Transflective Memory-In-Pixel (MIP)
Weight: 50 G
Water Rating: 5 ATM
Memory/history: 200 Hours of Activity Data
View a full list of Garmin Forerunner 945/945 LTE specs.
---
Need further troubleshooting? No problem!
For further technical support, we recommend contacting Garmin's fantastic technical support team—this can be done in two ways:
via Phone: 1-800-800-1020
As an Authorized Garmin dealer, any Forerunner 945 / 945 LTE sold on PlayBetter.com is completely eligible for Garmin's 1-Year Limited Manufacturer Warranty. So you can be confident you'll be protected from any product defects within 365 of your delivery date!
When you purchase a Forerunner on PlayBetter.com, you have 60 days to return or exchange it—no questions asked!  
The PlayBetter.com team is here to support you the entire way! So if you're not getting the help you need, please contact us via Help Center (email, chat or phone) and we'll make sure you're taken care of.
Was this article helpful?