Garmin Approach Z82 FAQs & Specs
Updated 2 years ago
Table of Contents
Garmin Approach Z82 Tech Support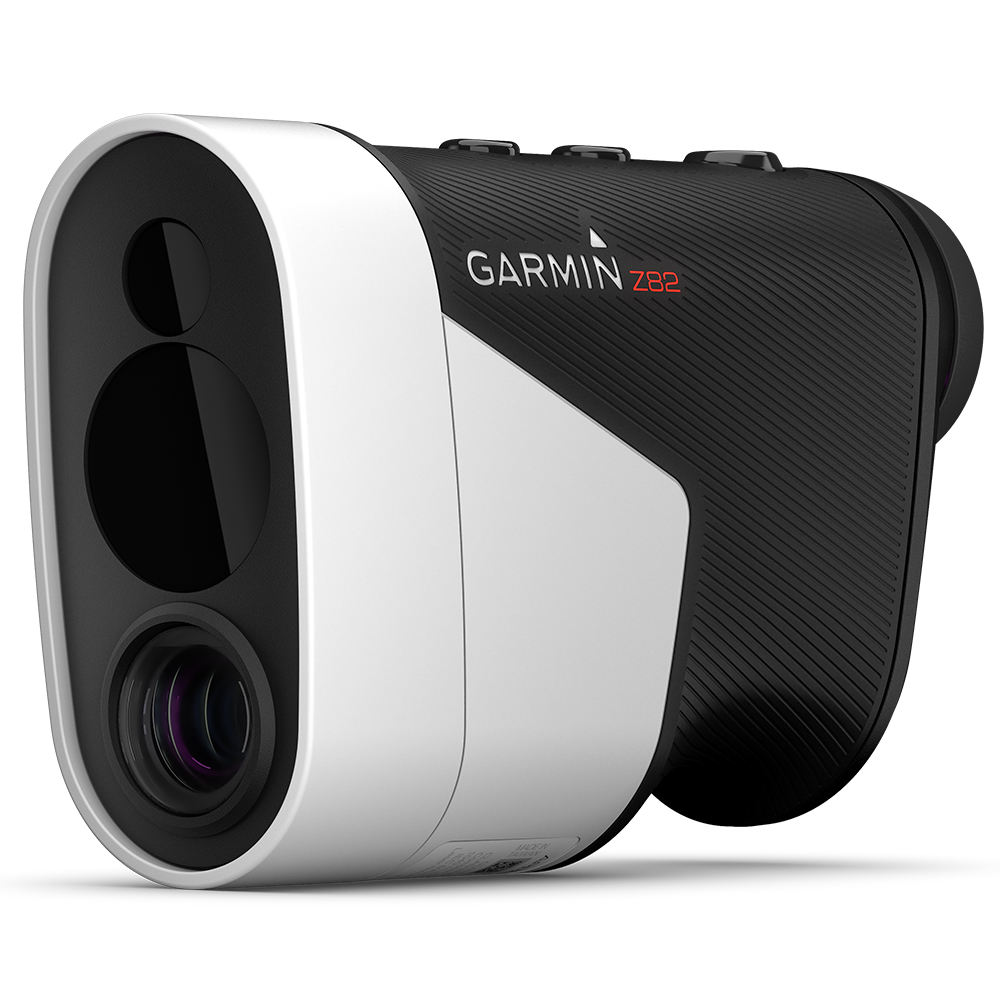 ---
Garmin Approach Z82 FAQs
Button Overview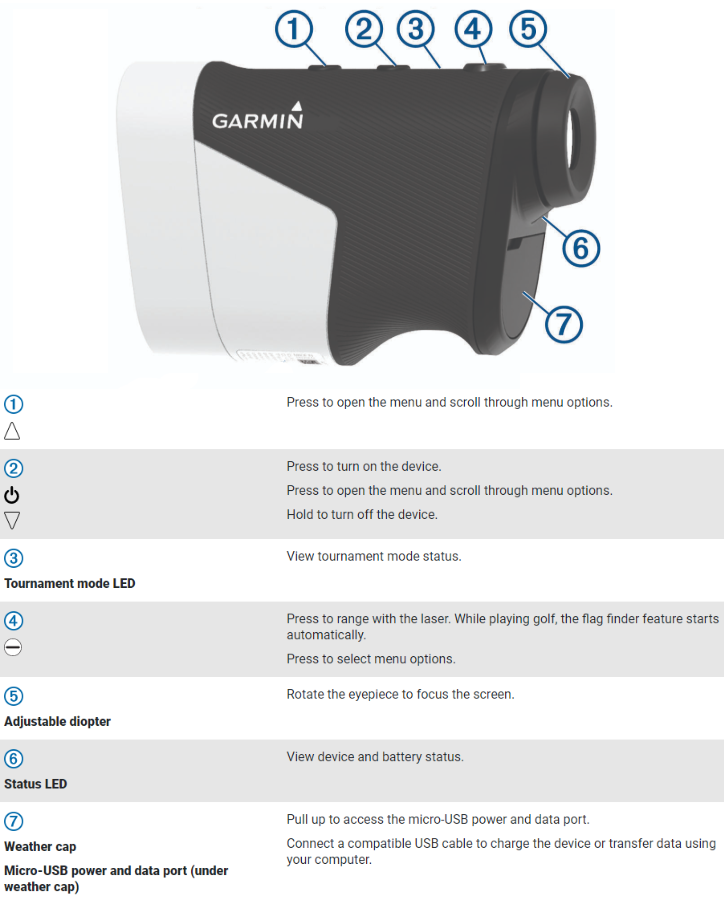 How Do I Set Up My Garmin Approach Z82
You can follow the below process to set up your Approach Z82. 
Before getting started, we recommend that you fully charge your Approach Z82.
Power on the Z82 by pressing
Use  to scroll through the language list and use  to select yours
The next steps allow you to set your user preferences, simply follow the onscreen prompts to complete the setup process.

How to Pair Your Smartphone to the Z82
This section is optional but recommended to receive connected features. These features include products software updates and Automatic Course Updates for the course you play most.
Before pairing your Approach Z82 to your phone, you will need to download and install the Garmin Golf app.
On the main menu, select Settings
Select Bluetooth
Select Pair Phone
In the Garmin Golf app, tap on Android, or More on iOS, and select Garmin Devices
Tap Add Device and follow the onscreen prompts to complete pairing


How to Start Your First Round of Golf
On the main menu, select Play Golf
After satellites have been acquired, the closest courses will appear. Select the course you would like to play.
Select your tee box
The Approach Z82 is now ready to begin playing your first round of golf

What Are the Z82 Settings?
Select Settings.
Bluetooth

Allows you to enable Bluetooth® technology or pair your smartphone with your rangefinder.

Tournament Mode

Disables the PinPointer and PlaysLike distance features. These features are not allowed during sanctioned tournaments.

Stat Tracking

Allows you to enable statistics tracking on the device.

Auto Measure Shots

Allows you to enable automatic shot measurements based on your last ranged location.

Laser Distance Precision

Allows you to set the number format for ranged values.

Driver Distance

Sets the average distance the ball travels on your drive. This distance appears as an arc on the hole view screen when you are on the tee box.

Compass Calibration

Allows you to manually calibrate the compass sensor.

Gender

Allows you to set your gender. This is used for gender-specific course ratings for select tees when calculating handicaps, and for gender-specific par values (where available).

System

Sets system settings, such as the text language on the device, the units of measure, and time format.

About

Displays device information, such as the unit ID, software version, regulatory information, and license agreement.




Calibrating the Compass

NOTE: You must calibrate the electronic compass outdoors. Do not stand near objects that influence magnetic fields, such as cars, buildings, or overhead power lines.

Your device was already calibrated at the factory, and the device uses automatic calibration by default. If the PinPointer feature is not working properly, for example, after moving long distances or after extreme temperature changes, you can manually calibrate the compass.

Select Settings > Compass Calibration.
Follow the on-screen instructions.




What Are the System Settings on the Z82

Select Settings > System.

Language

Sets the text language on the device.

NOTE: Changing the text language does not change the language of user-entered data or map data.

Units

Sets the unit of measure for distance.

Time Format

Sets the device to show time in a 12-hour or 24-hour format.

Brightness

Sets the brightness level of the backlight.

Auto Standby

Adjusts the amount of time before the device automatically goes into standby mode.

Reset

Allows you to reset user data and settings.



Where can I find the Garmin Approach Z82 Manual?
Click here to see the Approach Z82 manual.


See more Approach Z82 FAQs:
Click on this link for more Approach Z82 FAQs.
---
Garmin Approach Z82 Product Specifications
GENERAL
PHYSICAL DIMENSIONS: 4.8" x 3.1" x 1.7" (122.9 x 80.0 x 42.1 mm)
DISPLAY TYPE: full-color OLED display
WEIGHT: 8.2 oz (232 g)
BATTERY TYPE: internal rechargeable lithium-ion
BATTERY LIFE: up to 15 hours (GPS mode)
WATER RATING: IPX7
HIGH-SENSITIVITY RECEIVER
INTERFACE: USB
View a full list of Approach Z82 Plus specs.
---
Need further trou

bleshooting? No problem!
For further technical support, we recommend contacting Garmin's fantastic technical support team—this can be done in two ways:
via Phone: 1-800-800-1020
As an Authorized Garmin dealer, any Approach Z82 sold on PlayBetter.com is completely eligible for Garmin's 1-Year Limited Manufacturer Warranty. So you can be confident you'll be protected from any product defects within 365 of your delivery date!
When you purchase an Approach Z82 on PlayBetter.com, you have 60 days to return or exchange it—no questions asked!  
The PlayBetter.com team is here to support you the entire way! So if you're not getting the help you need, please contact us via Help Center (email, chat or phone) and we'll make sure you're taken care of.
Was this article helpful?