Garmin Approach G80 FAQs & Specs
Updated 2 years ago
Table of Contents
Garmin Approach G80 Tech Support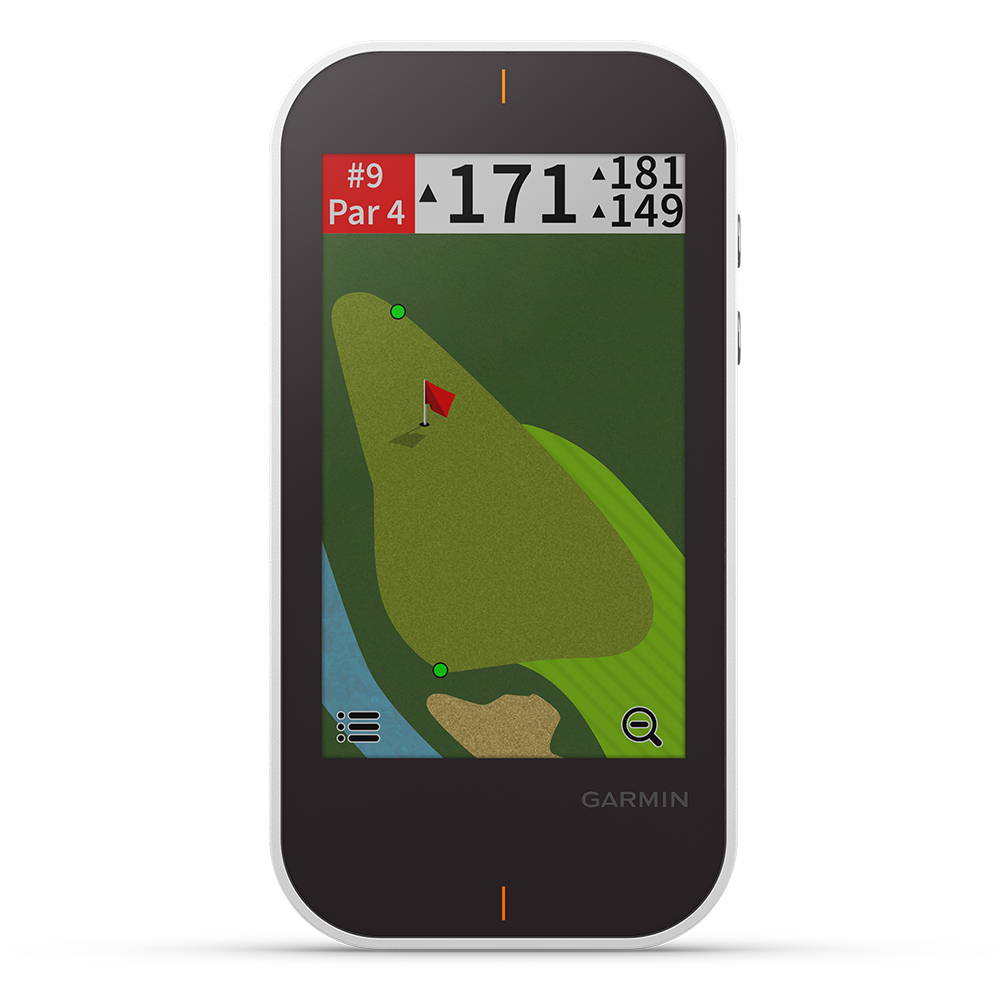 ---
Garmin Approach G80 FAQs
Device Overview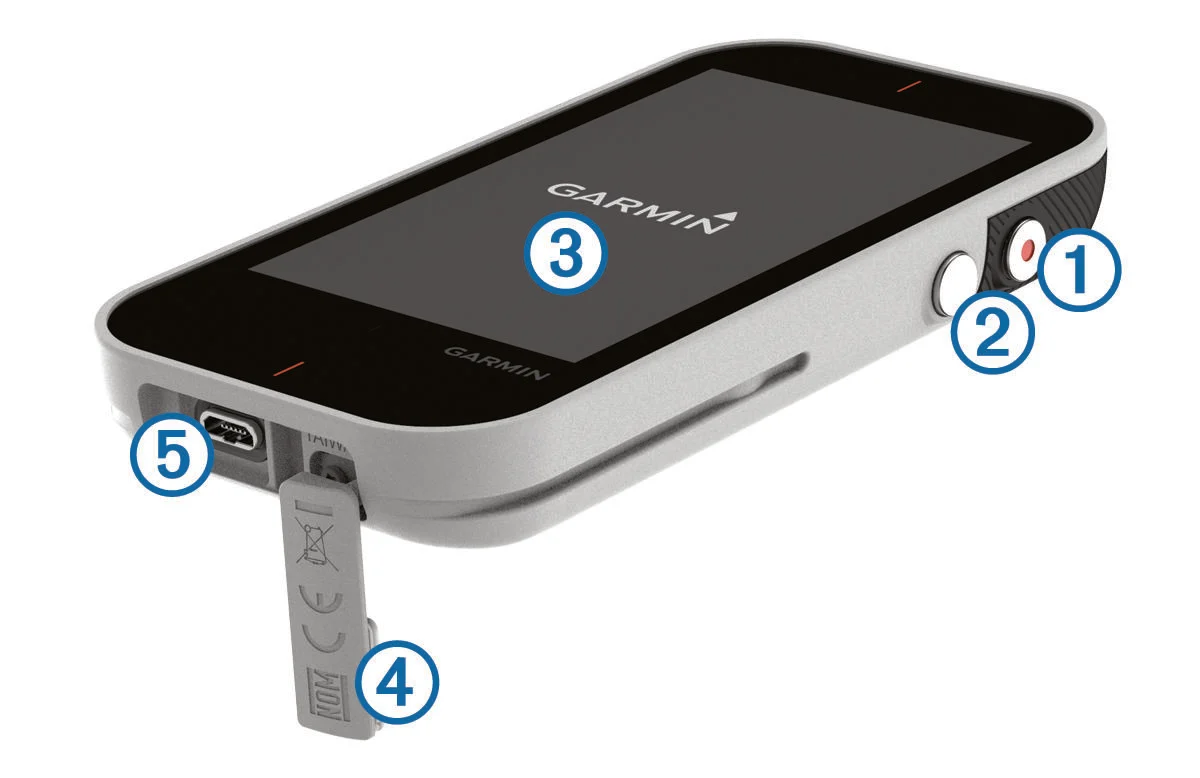 Power Button — Press to turn on the device. Press to lock or unlock the screen during a round. Hold to turn off the device.
Radar Button — Press to turn the radar on and off.
Touchscreen — Swipe to scroll through features, data screens, and menus. Tap to select. 
Weather Cap — Pull up to access the micro-USB power and data port.
Micro-USB Power and Data Port — Connect a compatible USB power cable to charge the device or transfer data using your computer.
My Approach G80 Is Unable to Acquire Satellites
If your Approach device will not acquire satellite signal, there are a number of factors to consider that may help resolve the issue:
Make sure the device has a clear view to the sky with no obstructions (buildings, patio covers, dense foliage).
If the device is in a new location it may take longer than usual to acquire GPS signal.
If the device does not have the latest software installed, check for updates with Garmin Express.
Performing a soft reset by powering the unit off and back on may also help correct the issue.
If the above does not correct the issue, a restore to defaults may help the device connect to satellites. 


How to Restore Your G80 to Factory Defaults
Touch
Select Settings
Select Reset Settings and Data
How do I resolve inaccurate or incorrect distances on my G80?
As with any GPS product, distance to a certain geographical location is important. This is especially true when using a Garmin Approach to determine yardage. If you are experiencing inaccuracies, it is important to understand what can affect yardage readings.
Inaccuracies should be compared against course markers. Course markers generally measure to the center of the green, not the hole. This is important to remember because it can mean the difference of 20 to 30 yards on some shots. The Approach will measure to the center of green by default.
Common Cause of Inaccuracy
The most common cause of inaccurate distance readings is that Unit Settings are set incorrectly to either Metric or Yards. If your local course measures distance in Metric, but your golf device is set to Yards, the distance will consistently be off.
Press  
Select Settings
Select Unit of Distance
Select unit type
Other Possible Causes of Inaccuracy
Approach does not have a clear view of the sky for a strong satellite lock.
CourseView version, software and chipset need to be updated. For assistance updating your software and maps with GarminExpress, please see Related Content at the bottom of the page.
Pin placement was manually moved away from the center of green.
Golf Course Remodels
Some inaccuracies can be the result of golf course remodeling and other situations where our Garmin course database will be in need of an update. To help notify us about an upcoming or needed update please fill out a Golf Course Report Form or if yardage inaccuracies exist with a specific hole or course under the following conditions:
Present on one or more holes but not the entire course.
Occurs with one course but not others.
As with any consumer grade product GPS inaccuracies will exist. Therefore, a yardage discrepancy of 5 yards or less is more than acceptable and would not be considered an issue.


How do I install software updates on my G80 when there is not enough memory?
Numerous scorecards stored in the Approach can fill up the device's memory. When attempting to update the software, the Approach will not have the memory to accept the update if there are too many scorecards.
If a message appears stating there is not enough memory, delete some or all of the scorecards.
Once the scorecards are deleted, sync Garmin Express to install the update.
How do I delete scorecards from my Approach G80?
Connect Approach via USB cable
Locate and open the Garmin Approach drive

Windows: Located under This PC
Mac: Located in the Finder

Open the Garmin folder
Open the Data folder (if available)
Open the Scorecards or Score folder
Delete desired scorecards
NOTE: Empty Trash if on a Mac
Safely eject Approach from computer
The scorecards will now be deleted.
What if there is condensation under the screen of my water resistant G80?
It is assumed that water resistant devices do not have humidity in them, though this is often not the case. Garmin, like many companies, creates devices with a level of humidity that is most conducive to manufacturing, and overall device performance. Devices can experience temporary condensation, moisture, or fogging inside the lens when you transition to an environment with a significantly different temperature. To decrease the chances of this occurring with a device, make the transition in temperature as gradual as possible.
If condensation occurs, move to a warmer environment to promote evaporation.
If the moisture does not go away, there are dried water spots on the inside of the glass, or there are visible puddles of water (more than beads of condensation) visible in the device it is possible the seals that provide water resistance have failed.
Being mindful of the signs of water ingress, and the signs of natural condensation will help determine if the device may need to be repaired.
Where can I find the Garmin Approach G80 Manual?
Click here to see the Approach G80 manual.


See more Approach G80 FAQs:
Click on this link for more Approach G80 FAQs.
---
Garmin Approach G80 Product Specifications
GENERAL
PHYSICAL DIMENSIONS: 2.3" x 4.5" x 0.6" (58.7 x 114.2 x 16.1 mm)
TOUCHSCREEN: Yes
DISPLAY SIZE: 1.8" x 3.0" (45.7 x 76.1 mm); 3.5" diag (88.9 mm)
DISPLAY RESOLUTION: 282 x 470 pixels
DISPLAY TYPE: Transflective color TFT touchscreen
WEIGHT: 4.2 oz (119 g)
BATTERY TYPE: Internal rechargeable lithium polymer
BATTERY LIFE: Up to 15 hours (GPS mode)
WATER RATING: IPX7
HIGH-SENSITIVITY RECEIVER: Yes
INTERFACE: USB
View a full list of Approach G80 Plus specs.
---
Need further trou

bleshooting? No problem!
For further technical support, we recommend contacting Garmin's fantastic technical support team—this can be done in two ways:
via Phone: 1-800-800-1020
As an Authorized Garmin dealer, any Approach G80 sold on PlayBetter.com is completely eligible for Garmin's 1-Year Limited Manufacturer Warranty. So you can be confident you'll be protected from any product defects within 365 of your delivery date!
When you purchase an Approach G80 on PlayBetter.com, you have 60 days to return or exchange it—no questions asked!  
The PlayBetter.com team is here to support you the entire way! So if you're not getting the help you need, please contact us via Help Center (email, chat or phone) and we'll make sure you're taken care of.
Was this article helpful?