Garmin Approach G12 FAQs & Specs
Updated 2 years ago
Table of Contents
Garmin Approach G12 Tech Support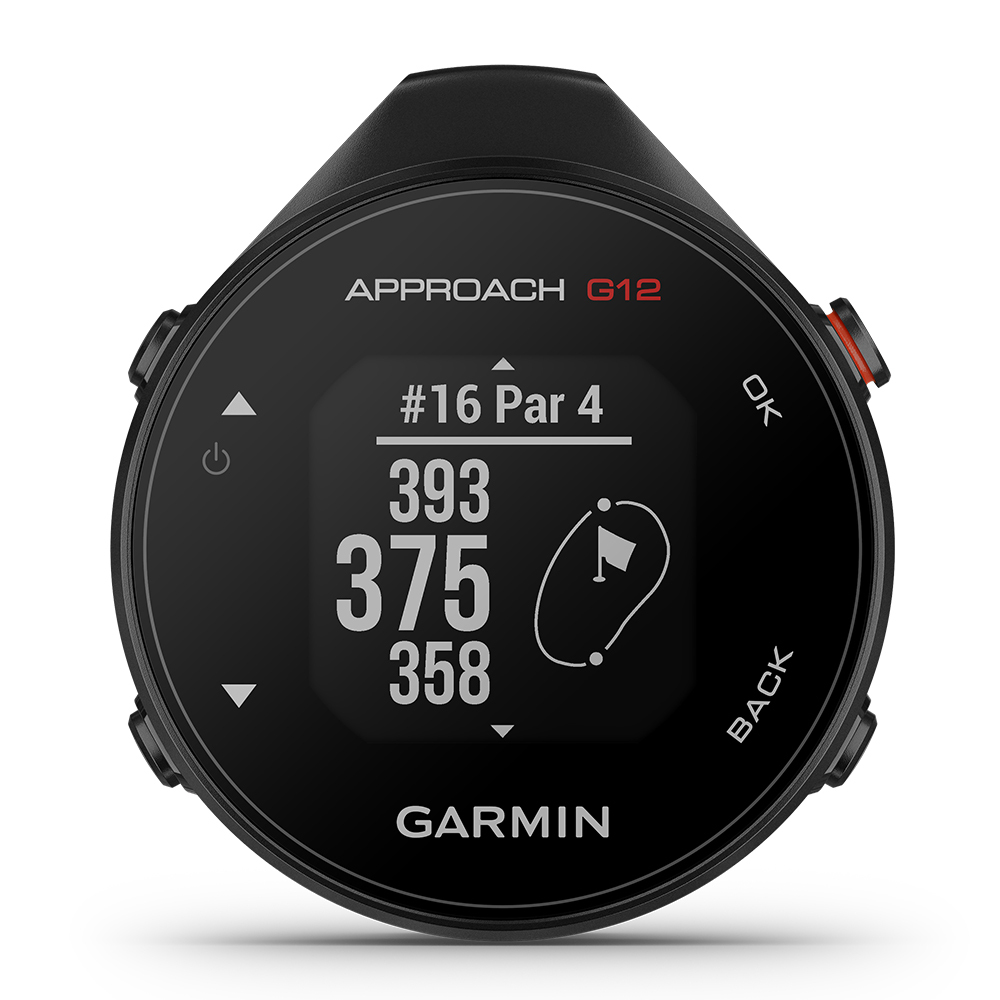 ---
Garmin Approach G12 FAQs
Button Overview

How do I get started with the Approach G12?
You can follow the below the process to setup your Approach G12. 
Before getting started, we recommend that you fully charge your watch.
Power on the Approach by holding Power
Choose your language by scrolling through the list and selecting the language by pressing OK
The next steps allow you to set your user preferences, simply follow the on screen prompts to complete the setup process
How do I pair my smartphone to the Approach G12?
This section is optional but recommended to receive connected features. These features include, products software updates and Automatic Course Updates for the course you play most.
Before pairing your Approach G12 to your phone, you will need to download and install the Garmin Golf app.
Press OK
Select Settings then Pair Phone
In the Garmin Golf app, touch  on Android, or More on iOS, and select Garmin Devices
Touch Add Device and follow the on screen prompts to complete pairing
How to start your first round of golf?
Press OK
Select Play Golf and wait for satellites to be located
After satellites have been acquired, the closest course will appear
Select the course to play
The G12 is now ready to begin playing your first round of golf
Playing Golf
Before you can play golf, you must wait until the device acquires satellite signals, which may take 30 to 60 seconds.
Press OK.
Select Play Golf.

The device locates satellites, calculates your location, and selects a course if there is only one course nearby.

If the course list appears, select a course from the list.
Follow the on-screen instructions to complete the setup and start a round.
How do I access my golf settings on the G12?
Press OK, and select Settings > Golf Settings to customize golf settings and features.
Background Color

Sets the background color to black or white.

Scoring

Enables scoring.

Stat Tracking

Enables detailed statistics tracking while playing golf.

Penalties

Enables penalty stroke tracking.

Big Numbers

Changes the size of the numbers on the hole view screen.

Golf Distance

Sets the unit of measure used while playing golf.

Club Sensors

Allows you to set up your Approach® CT10 club sensors.



Where can I find the Garmin Approach G12 Manual?
Click here to see the Approach G12 manual.


See more Approach G12 FAQs:
Click on this link for more Approach G12 FAQs.
---
Garmin Approach G12 Product Specifications
GENERAL
PHYSICAL DIMENSIONS: 1.8" x 2.0" x 0.5" (45.8 x 51.3 x 12.4 mm)
DISPLAY SIZE: 0.9" x 0.9" (23 x 23 mm)
DISPLAY RESOLUTION: 176 x 176 pixels
DISPLAY TYPE: sunlight-readable, high-resolution, monochrome
WEIGHT: 0.9 oz (25.1 g)
BATTERY TYPE: internal rechargeable lithium-ion
BATTERY LIFE: up to 30 hours (GPS mode)
WATER RATING: IPX7
HIGH-SENSITIVITY RECEIVER
INTERFACE: USB
View a full list of Approach G12 specs.
---
Need further trou

bleshooting? No problem!
For further technical support, we recommend contacting Garmin's fantastic technical support team—this can be done in two ways:
via Phone: 1-800-800-1020
As an Authorized Garmin dealer, any Approach G12 sold on PlayBetter.com is completely eligible for Garmin's 1-Year Limited Manufacturer Warranty. So you can be confident you'll be protected from any product defects within 365 of your delivery date!
When you purchase an Approach G12 on PlayBetter.com, you have 60 days to return or exchange it—no questions asked!  
The PlayBetter.com team is here to support you the entire way! So if you're not getting the help you need, please contact us via Help Center (email, chat or phone) and we'll make sure you're taken care of.
Was this article helpful?